Fibre Systems
Update:- 21st July 2020
We are still offering goods via our web site and shipping via carriers or Royal Mail. We have stock of Fibre Patch Leads, Splitters and connectors. We may also be able to supply Fibre cables but this may change once our suppliers close.
Email us with your requirements and we will see what we can do for you.
Most of the Fibre equipment on our site we are able to supply or something to get you out of a problem, and we are still able to offer quick turnaround on manufactured optical fibre pre-terms and patch leads.
We are in this together. Please let us know how we can help, stay safe, stay healthy and and stay in touch.
We will still be available to deal with your enquires only via email for the time being.
We have stock of most of the PLC Splitters. Please email sales@satsearch.co.uk for a stock update.
... --- ...
Fibre Cables
Fibre Cable delivered to your office or site next day on pre 10:00am if required.
Range of Multi core Brand-Rex and Excel fibre optic cables, price as low as 0.32p per meter.
Large stock of Loose tube, Tight Buffered and Steel Tape Armoured.
Watch the video on the towing a car with the Self-supporting 4 core fibre. Click here
We are now stocking Cassette Type Splitter Modules.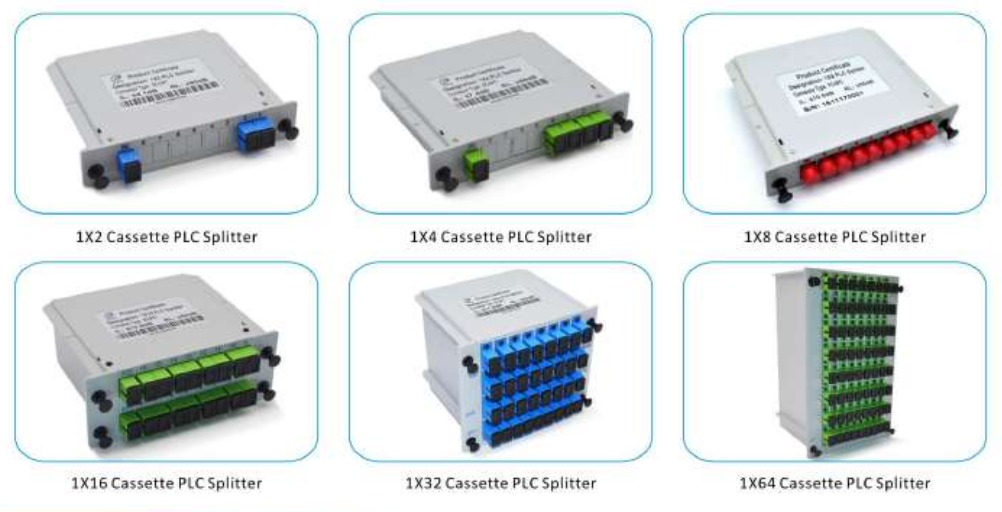 Satsearch provide a complete end to end range of Fibre to the Home (FTTH) solutions, delivering signals over fibre from the Dish Headend to the customers termination points. Thinking of the future. The Cost effective solution.
New FTTH Containment from Micos (click image to go to web page).
MTeH MINI is a simple optical distribution box for the installation inside the buildings. Suitable as a floor box in larger buildings or as the main distribution box in buildings with no more than 8 flats. Vertical riser cable can be installed inside the box. Suitable for Gpon networks with pre-installed splitter. Box has separated section with hinged cover for individual access to adapters.
Possibility to use for splicing or patching
Capacity up to 10 SC simplex or SC duplex in a separate section
Holder for 2 splices in the bottom of the box
Possibility to place a TS 12 holder for 12 splices (max. 14 splices)
Premoulded holes in the bottom for routing the cable through the wall Separate section for connecting customers
Inputs for drop cables with the diameter up to 5mm from all sides
Possibility to install vertical mid-span cable
Possibility to use PLC splitters 1:8 or 2× 1:4 (small format)
Screw lock
Suitable solution for GPON networks
For fibre G.657
Coming Soon. "FibeRoad" System from Micos.
‬
New from Eloik ALK-3000 Optical Time Domain Reflectometer (OTDR)
Fibre Optic Relocation & Repair Service.
Fibre optic cable can be relocated as infrastructure changes take place. We can also offer fibre optic repair service should cables get damaged. In addition to this, we can inspect, clean and test optical cable systems
Satsearch market is primarily service and installation for the data, Telecom, CCTV and Satellite Tv industries. As Satellite moves into a new era with fibre optics we have put together some high quality products at completive prices , some of the products you will require to be able to install, service and fault find.
Since 1985 we have helped solve the 3 I's (Interconnection, Interface and Installation) of signal management in the Broadcast and Communication industries and have grown consistently to become the engineer's acknowledged service leader across those sectors.
We provide a punctual and reliable service and can install and repair any kind of television aerial and Satellite System. Our professional team are committed to providing the highest standards of workmanship.

Satsearch is a well-established business with many years of experience in the TV / Video, satellite & data industry. Our company has a great reputation for affordable and reliable services.
A lot of our work comes through recommendations and we pride ourselves on our high quality of work.

Some of our services include:
- Fibre, Satellite, DDT, DAB & IRS
- Digital Television, DAB aerial installing
- Home Network Systems (Video & Audio over CAT5), Fibre
- Satellite and Digital TV Communal aerial Systems
- Satellite Internet services
And many .more

You can contact Satsearch today on 01252 560832 Our services are available all across Surrey, Hampshire and most of the South of England. If you have a problem just give us a ring.